Home Page
A lot of us think about giving back to the community, but never get to it. Why? Mostly because we don't know how or we're afraid it'll be too much work. While nothing as rewarding as being a Lion comes with no effort, you'll be amazed how simple it is to become a member and how little of your time it will take.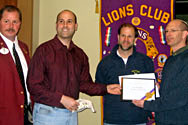 There are no tests, no initiation rituals or secret handshakes. There are no requirements at all beyond having a desire to put your time and talents to work helping people in Bolton and around the world. If helping others sounds interesting, we're interested in meeting you!

The first step is to come to one of our meetings for a bite to eat and to learn more about what we do. If you know one of our current members, give him or her a call and they'll get you started. If you are accepted for membership annual dues are $60 per year.


Can't wait for the next meeting? Print and fill out this form and contact us. Simple, right?

Don't Miss Out!

Click "Like" below to join us on Facebook and stay updated about our Fun-Raisers
and other news throughout the year.