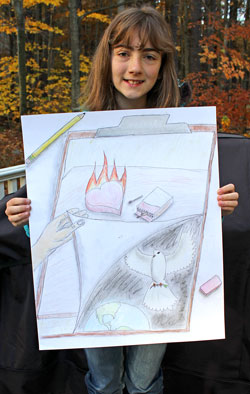 For more than 25 years, Lions clubs around the world have proudly sponsored the Lions International Peace Poster Contest. Children ages 11-13 participate in the art contest which encourages young people to express their visions of peace. Millions of children from nearly 100 countries have participated in the contest. For 2015/2016, the Peace Poster Contest theme is "Share Peace."

The Lions Club of Bolton is proud to announce that Hallie Farmer of Century Mill Road, Bolton has won first prize in this year's Bolton Lions local competition. Her poster is entitled, "Turning to a Better World."

Hallie will receive a check for $50 and an Achievement Award certificate. Her poster will move forward to the District Level competitions where posters from our region will be judged on December 15th. Winning posters from the District competition will compete in the Lions International competition. International winners will be notified on or before February 1, 2016.

Congratulations Hallie!