Home Page
Schedule:

September through June: First and third Wednesdays of every month except the Wednesdays before and after January 1.
(Lions rest during the heat of summer in July and August.)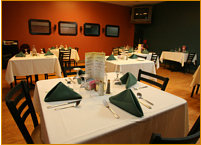 The Bolton Lions meet at the Riverview Restaurant, which is located at the Hudson Portuguese Club, 13 Port Street in Hudson, Massachusetts. The Lions meet to conduct business, plan upcoming events, dine, and enjoy fellowship and camaraderie.

We frequently have guest speakers from around the corner and around the world who present on a broad range of topics. Recently, we enjoyed the company of a student from Korea studying here who talked about Korean culture, society, and education and what it was like to adjust to life in the United States. Bolton Town Planner Jennifer Atwood Burney joined us for a presentation on the Town Center Overlay project. Tim Fiehler from the Bolton Historical Society was a guest speaker. Watch this Web site, the Bolton Common and Action Unlimited for announcements of future speakers.


Dinners start at 7:00 PM and typically last until 8:30 PM or so. Join us! We're always happy to pull up another chair for a friend. Anyone interested in learning more about the club is welcome including both women and men.